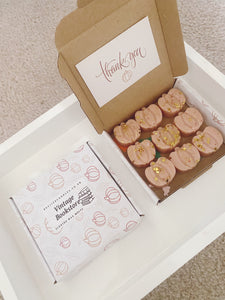 How adorable are our brand new scented pumpkin boxes!? Need a autumn inspired wax melt to fragrance your home? These pumpkins will certainly do the job! 


- 9 autumn scented pumpkin wax melts in the scent Vintage Bookstore
- comes in a pumpkin printed box, so these would make a great gift! 


Vintage Bookstore - An intensely rich wood chypre accord with soft notes of leather, bergamot pith, green leaves and warmer citrus notes, next we have a full and complex heart with nutmeg, carnation, black pepper and aromatic patchouli descending towards a full soft base with amber, tobacco and sandalwood.